Teresa Ray Life Plan Testimonial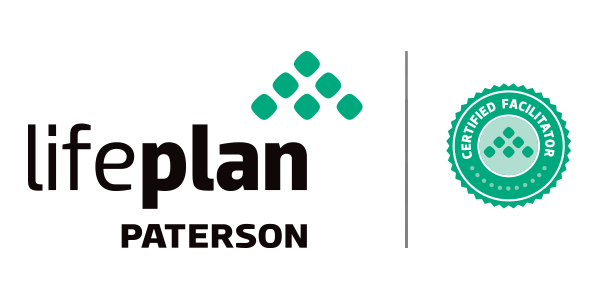 Paterson LifePlan Process
LIVE BY DESIGN NOT DEFAULT

Each of us long to live a meaningful life, a life of purpose. Yet many simply move from one thing to the next, taking each day as it comes, with no real purpose. We are pulled in a million directions and feel life is passing us by. Most, do the next thing on our "to do list" and hope to wind up with a successful, meaningful life. But it doesn't have to be that way. Are you ready to get clarity? A sense of purpose? Establish guidepost for decision making? If so, you may benefit from a LifePlan retreat.

The LifePlan Retreat is a one-on-one experience designed to help you live your life by design rather than default. You'll take a two day journey designed to reveal your life's purpose and help you LIVE it! With actionable goals and clear vision you'll be invigorated and energized. You'll be equipped with "next steps" and will begin creating the life you were designed to live.
How It Works
The LifePlan process takes a holistic approach to planning. Using a proven, spiritually and behaviorally sound process intended to help you discover your unique design, clarify your life mission, and apply your discoveries to your personal, family, vocational, faith, and community life domains.
A signature mark of the Life Plan process is a heavy emphasis on gaining full perspective. Accordingly, the first day and a half is spent reaching full perspective on where you stand today, how you got where you are, and what God has called you to do and become (and consequently, what you shouldn't do or become). The process moves you into further clarity and breakthroughs in each of your five Life Domains (Personal, Family, Vocation, Faith, and Community).The last half-day is spent crafting plans for each life domain and creating accountability and management framework to help you manage and renew your Life Plan in the future.
BENEFITS
The LifePlan process guides you to deeper awareness of your giftedness and your life's purpose. At the end of two days, you will have gained clarity, focus, direction and hope, as well as a practical plan to realize your new vision for life. Your LifePlan will help you integrate and optimize your life purpose and vision into your life domains through customized, doable action plans.
Do I Need a LifePlan?
Yes, we all need a LifePlan at some point in our lives. If you have an overwhelming need to discover your purpose in life, if you have a strong desire to redefine your life mission, or if you simply need help to organize and gain balance around an already clear life purpose, then you are ready for a LifePlan.
Am I ready for a LifePlan?
You may have a need for a LifePlan, but you may not be ready for one. Instead, you may need a specific type of counseling. The P/V/G LifePlan Retreat is not therapy, nor prescriptive in its approach. Rather, it is a 'spiritually dependent' planning process which relies on God's presence to bring out an individual's insight and wisdom which is needed for personal perspective and decision. The facilitator guides the process and you provide the content throughout the process. Together, with God's help we create a personalized LifePlan organized around the five domains of your life.
FIND OUT WHETHER YOU NEED A LIFEPLAN
Take our quick quiz to find out whether a LifePlan would benefit you!